Best Homemade Meals to Make While Camping
When you're sick of eating all the same meals when out camping, these new recipe's will change the game. Take a look at some of our favorites that you can use next time you're out in the wild. Foil Packet recipes are the definition of easy recipes. Just use aluminum foil to create your packets, throw in the ingredients (some might need to be cooked before this step), and then bake or grill! Not only is the cooking part easy, but clean up is a cinch. No pots and pans to scrub because everything was contained inside the foil packets!
Tinfoil Nachos - This is the best nachos recipe because you can just throw everything into the foil packets and then bake them in the oven or put them on the grill. It's so easy and doesn't take long at all. You can make these easy nachos packets as small or as large as you'd like, making them for a crowd or just for yourself. You can make some with chicken and some with beef; some with jalapenos and some without! They're fully customizable, super delicious, and totally fun!
Ingredients;
*You can put whatever you want on these tasty nachos!*
Instructions;
-Heat grill to medium high heat (or heat oven to 350F), In a large skillet, brown beef over medium high heat. Stir in the taco seasoning and stir to coat. When almost browned, toss in the green chiles (both fully drained) and stir to combine. Remove from heat and set aside.
-Fold two large 12x24 inch sheets of foil in half and fold up the edges to create the bottom of each packet.
-Place half the chips at the bottom of each foil packet. Sprinkle each with half the beef mixture, half the beans, half the onion(if you have it), and top with half the cheese. Lastly sprinkle with chopped cilantro(if you'd like).
-Fold the other half of each foil packet and pinch shut. Cut a hole in the top of each packet as shown so steam can vent (and avoid chips getting too soggy).
-Bake or grill for 12-15 minutes or until cheese is fully melted. Top with sour cream, jalapenos, or your fav nacho toppings.
-Enjoy!
Hobo Dinner; This meal is so simple to make and everyone loves them! Comforting veggies including potatoes, carrots and onions are topped with a seasoned hamburger patty and grilled or baked to tender perfection.
Ingredients;
1 lb lean ground beef
-1 package dry onion soup mix(optional but does give it some GOOD flavor)
-4 small potatoes peeled and sliced
-2 cups carrots chopped
-1 large or 2 small onions, sliced
-2 tablespoons olive oil
-1 teaspoon garlic powder
-salt & pepper to taste
-condensed mushroom soup(optional but does give it some GOOD flavor)
*You can add whatever you want in this recipe!*
Instructions;
-Preheat oven to 375 degrees fahrenheit and combine ground beef and dry soup mix in a bowl. Form into four patties and set aside.
-In a large bowl combine all remaining ingredients except mushroom soup. Toss until well mixed.
Spray a 12″x18″ piece of foil with non-stick spray.
-Place 1/4 of the vegetable mixture in the center of the foil. Top with 1 beef patty. Add 2 tablespoons of condensed mushroom soup on top of each patty.
-Seal foil packets well. Place beef side up on a large baking sheet and bake 35-45 minutes or until potatoes and carrots are tender.
-ENJOY!
Campfire Cones;  Ice cream isn't a realistic dessert option while camping, but who says you have to lose the cone completely? To make campfire cones, line a sugar cone with peanut butter and then fill the cone with your favorite toppings like mini marshmallows, chocolate chips or M&Ms, and bananas. Wrap the cone in aluminum foil and warm it up over the campfire for 5 to 10 minutes.
Ingredients; (see above)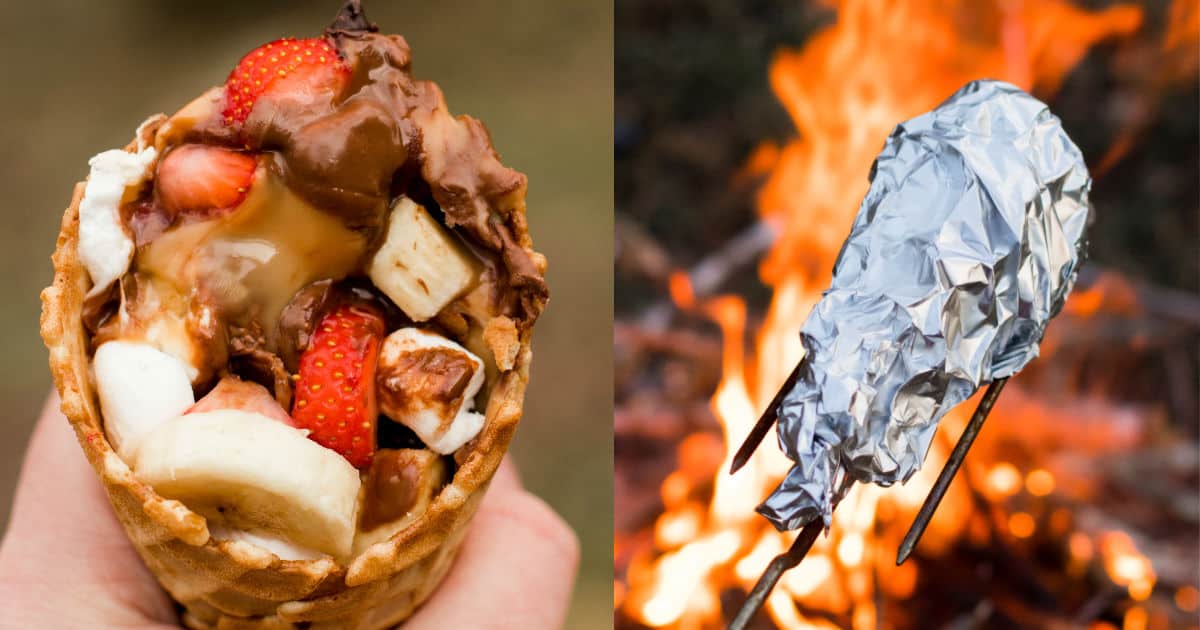 -Ice cream sugar cones
-Dessert toppings of your choice
*You can add whatever you want in this recipe!*
Campfire Banana Boats; Healthy on the outside, sinful on the inside, campfire banana boats are a delicious way to enjoy dessert. Slice a banana (keep the peel on) down the center lengthwise and stuff with mouthwatering ingredients like chocolate chips, crumbled graham crackers, marshmallows or any sweet treat you desire. Wrap the banana in tin foil and warm over the campfire, then eat the contents of your banana with a spoon.
Ingredients;
-Bananas
-Chocolate chips
-Graham crackers
-Marshmallows
sources;
thedyrt.com