Mar 14, 2012 · 5 Comments »
There are a lot of myths out there about what would happen if there were a nuclear explosion. There have been comments about who would survive, what conditions would be like and what areas have the most threat. We thought we'd address some of these issues.
A nuclear power plant could explode
While a nuclear water regulated reactor might have a meltdown, it's impossible for a Pressurized Water Reactor (PWR) or Light Water Reactor (LWR) to explode like an atomic bomb.
This is because in order for an uncontrolled chain reaction to occur that is similar to an atom bomb, the uranium fuel must be extremely enriched, much more than the 4% 235U that is present in regular, commercial nuclear reactor fuel.

So, if it can't explode, what does happen in a nuclear reactor? The answer is what is called a meltdown. When a meltdown occurs in a reactor, the reactor "melts". That is, the temperature rises in the core so much that the fuel rods actually turn to liquid, like ice turns into water when heated. If the core continued to heat, the reactor would get so hot that the steel walls of the core would also melt. In a complete reactor meltdown, the extremely hot (about 2700 Celsius) molten uranium fuel rods would melt through the bottom of the reactor and actually sink about 50 feet into the earth beneath the power plant. The molten uranium would react with groundwater, producing large explosions of radioactive steam and debris that would affect nearby towns and population centers. (Read the Think Quest article.)
[polldaddy poll=6039519]
Cockroaches would survive a nuclear explosion
This actually depends on what level of radiation the cockroaches are exposed to. Cockroaches exposed to 1,000 to 10,000 rads lived for a month. However roaches exposed to 100,000 rads didn't survive. This is still pretty impressive though, considering that humans wouldn't survive a 1,000 rads within 10 minutes.
Food in an explosion would become radioactive and non-edible
There are three types of radiation during a fallout – alpha particles, beta particles and gamma rays. The first two are particles that can't be seen by the naked eye. However, they can be simply washed off of many types of food.
In any case, these particles may be simply washed off many types of foods that have a natural covering, such as eggs, bananas, potatoes, oranges, etc., or off well sealed foods such as those in vacuum packed cans. Foods such as grains (rice, dry cereals, etc.) that are in partially used packages that have been opened should be viewed with suspicion. Fallout dust may have crept in.

The food in its unopened container or natural covering should be rinsed under flowing water and then placed on a surface that has been similarly cleansed, before opening. Make sure that the hands (and under the nails) have been thoroughly cleansed before handling the food. There is little danger in handling such articles. The radiation given off by these particles is so weak that it will often not even penetrate something as thin as the cellophane wrapper on a package of cigarettes. (Read Bruce Beach's article.)
Radiation would be inescapable
This is not totally true. While everything at the base of the explosion would be pulverised, many of the effects of a nuclear bomb are due to the fallout – or the particles that fall from the plume.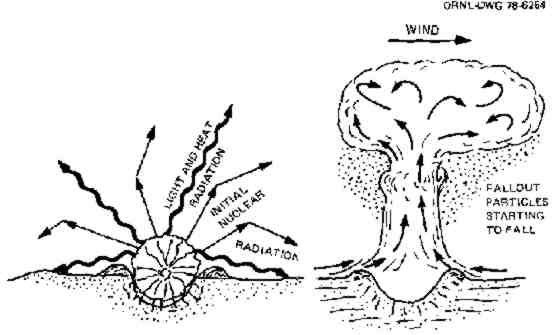 If there is not a lot of wind, the fallout particles could be distributed within an hour of the explosion. And, the longer these particles are airborne, the less radiation they contain. (From the book, "Nuclear War Survival Skills.")