Why Don't We Pay Attention to Tornado Warnings?
In May of 2011, a tornado warning was issued in Joplin, Mo.. Sirens sounded and residents were told to move to a secure shelter. However, most residents did not heed the warning. In the end, 158 people lost their lives that day.
Why didn't people heed the warnings?
Notice the sirens going off in the background:
I started looking for more information into why people don't follow tornado warnings and found that scientists are just as stumped as I am.
Wait, Is This For Real?
According to research by Laura Myers, a Mississippi State University sociologist, about 10 percent of the population takes warning at the first sign of bad weather. However, the majority respond to tornado warnings and sirens with "denial."
"They're sitting there saying, 'OK, I don't want to deal with it. I don't want to have to worry about it.," Myers told MPR News. "I want to assume everything is going to be OK.' That's why the person will wait for that secondary confirmation. They'll say, 'I've really gotta know it's going to hit me.'"
Researchers have found that the majority of people will keep an eye on the news but they look to the sky more often. The average tornado warning in the United States occurs about 13 minutes before an incident, according to the National Weather Service. However, most people spend time looking for more news to confirm the warning.
"People turn into information vampires when they hear their town and village might be struck by a violent tornado," said Dennis Mileti, retired director of the Natural Hazards Center at the University of Colorado in Boulder. "That's how human beings are wired. Nothing is going to change that."
In order to combat this problem, the NWS is planning on using more intense tornado warning language. For example, warnings will state that "mass devastation is highly likely, making the are unrecognizable to survivors" or "complete destruction in your neighborhood is likely."
However, they are finding that many people are still not heeding the warnings because of a perception that most of the warnings are false alarms.
The Boy Who Cried Wolf
Reportedly, 75 percent of tornado warnings are false alarms – there is no observed tornado. However, that doesn't mean that a tornado wasn't forming – it just didn't touch the ground.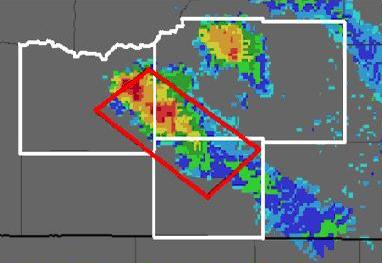 Warning graphics on televisions typically show whole counties that may be affected instead of the actual path of the storm. This leads to whole counties being warned while a city on the edge of the county might be the only area affected.
Issues like this have lead the NWS to issue "storm-based" warnings.
"That means that they do not issue warnings based on political boundaries (like cities or counties)," wrote Mike Eilts, CEO of Weather Decision Technologies. "Rather, the warnings are issued as polygons which precisely outline the area that the expert meteorological believes is in the hazardous path. Yet, many communities continue to set off their sirens for the entire city or county." And that seems to be the problem.
Eilts recommends that people use modern technology, like phone apps, to get more precise information about their neighborhood. His company offers an app, iMapWeather Radio, that issues alerts via your phone if you are in a polygon affected area instead of just the county.
"We have over 250,000 users of this app, and we have many testimonials about how we have saved people's lives during tornados," he wrote. "However, our biggest complaint is: 'I did not get an alert for the tornado/severe thunderstorm warning in my area even though the sirens were going off and the television meteorologist was showing I was in the warning.' We actually had to build a tool so that we could investigate each of these complaints … and guess what? EVERY single complaint we have received we have shown that the location of the person was actually NOT in the warning polygon even though they were getting alerts from multiple credible sources!"
What Do You Do?
So we're curious. What do you do to be forewarned about tornadoes? Is there certain websites or apps that you would recommend? Share your knowledge below and comment!
Updated May 16, 2012